GoDaddy is the most well known web hosting service for small businesses and people entering the world of e-commerce. That is where Godaddys claims end unfortunately because many who sign up for GoDaddy, regret that choice shortly down the road of entrepreneurship. Starting a business means you're trying to keep initial costs as low as humanly possible, so finding an affordable web hosting service is very important. This article is going to show you the true cost of GoDaddy and provide higher quality less expensive options. Free domains are not exclusive to GoDaddy, don't get fooled.
So, why is GoDaddy so popular and how does it entice people into starting their first websites? This article will help to explain why all entrepreneurs should avoid GoDaddy in 2019 and moving forward. By the end of reading this, you should feel extremely hesitant about giving your hard earned dollars to a company like GoDaddy. Don't let GoDaddy wipe you out within 24 months.
GoDaddy's prices
The most notable aspect of GoDaddy is their enticing marketing offers, which usually states you get a free domain with any hosting plan. Wow, free domains?! This is an offer that most won't be able to refuse due to the wording. However, you will soon find the costs adding up if you accept this discounted domain. The offer is legitimate of course, they will give you an introductory discount but when the math is done over a one year period, you end up paying more.

As you can see in the above example when purchasing a domain you would pay the following: $3 in year one + $25 in year two for a total of $28 to register a domain for two years. At first this may appear to be priced fairly in comparison to other domains until you want to add anything of value to your domain. Let us proceed further through the GoDaddy checkout.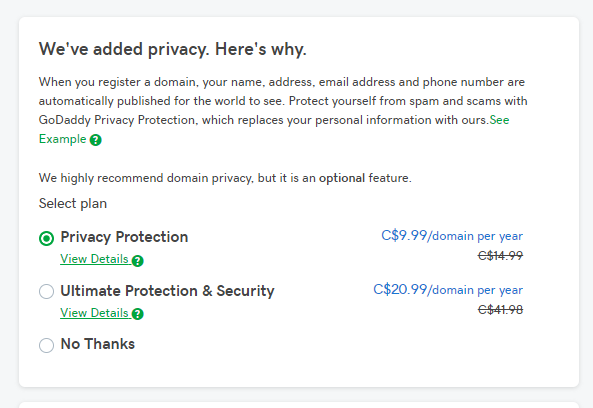 Here is where things start to get pricey when using GoDaddy. Privacy protection is important when purchasing a domain because without it, the info you provided during the domain registration is public. This may not be a concern for some people, but privacy is paramount for most.
Now let us assume you want your identity protected, this adds another $20 to your 2 year package bringing our GoDaddy cart to $48 CAD

There are companies that offer this for free when you purchase a domain, so this is $20 you don't need to spend. We will list those companies later on in the article. However, we aren't finished with GoDaddy yet so let us proceed further into the checkout.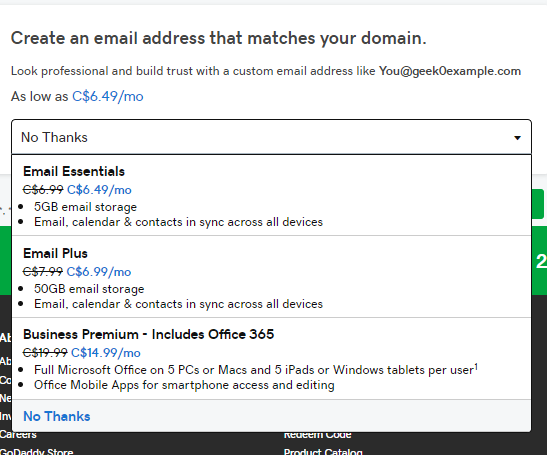 The next step in our cart is adding a domain branded email to the account. So for example: sample@geek0.com would be considered a domain branded email because it uses the @geek0.com domain.
Is GoDaddy email Good?
Again, this is free with other web hosting providers that are mentioned later in this article, but GoDaddy charges a minimum of $6.50 per month. So no, we would say they are not good. Their minimum plan only includes 5GB of email storage which would mean you would constantly be having to delete emails in order to accept incoming ones. To keep things as cheap as possible for this blog post, we will choose the $6.49 / mo plan which costs us a grand total of $155.76 for our two year plan.
That brings the projects total to $203.76 CAD
(don't forget we haven't purchased a server to host this domain yet)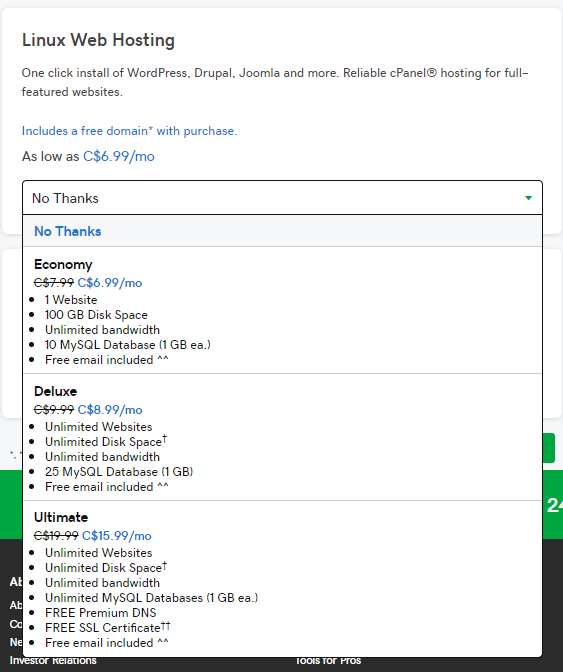 Picking hosting is where GoDaddy really starts to sink their hooks into your business. Any entrepreneur will vouch that any of these plans will not suffice for anything larger than your Grandmas blog about where to find cute cat sweaters in North Dakota. If you're expecting to see any amount of traffic or plan to build an e-commerce store you will soon regret going the GoDaddy route.
(Note, they do include email for free in these plans but they do not specify if it's a domain branded email or a @godaddy.com email)
Assuming you're someone who is planning on earning a profit from their web project, you will need an SSL Certificate for your domain. If you're unfamiliar on why this is important, check out this article. It is impossible to take credit card payments if your website is not SSL secured, so we are forced to purchase the Ultimate package at $16.00 / mo.

GoDaddy Total:$ 587.76 CAD
$587 is a lot of money for someone to spend on their new venture, especially if the idea is experimental. This cost could be enough to sink an idea someone has before it even blossoms into a business. GoDaddy uses their discounted domains to draw clients in and rake them over the coals as they start adding necessary service to their cart. It's very clever marketing, but you're much smarter than that after reading this article.
The GoDaddy Alternative
Hopefully if you're at this part of the article, you are no longer considering GoDaddy as a viable option for your web hosting. This is where we would like to introduce a hosting company called Dreamhost. Dreamhost is an excellent company with extremely affordable solutions for web hosting. They offer free email, free SSL and robust servers even at their bottom tier. The best part is, the cost is substantially lower than GoDaddy's plan we priced above. Let us make our way through the Dreamhost checkout and compare prices.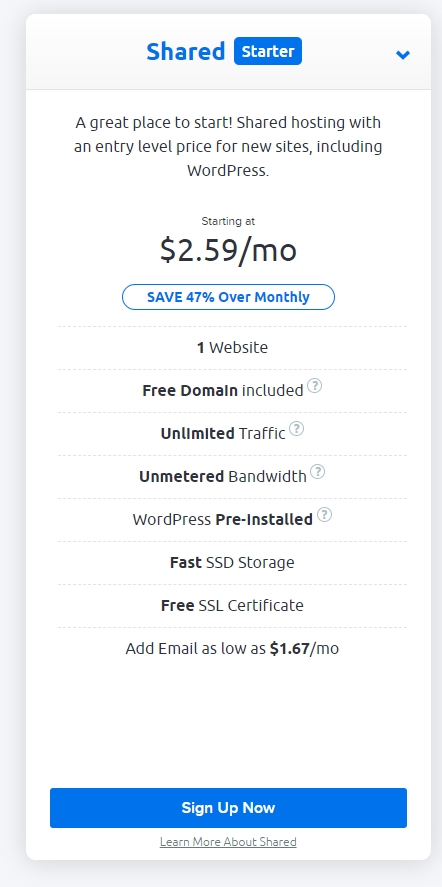 For Dreamhost, we will stick to the same rules as GoDaddy; find the lowest cost hosting plan that can host an e-commerce store.
As you can see in the above, we have picked a shared starter server which will perform quite well in comparison to GoDaddy's servers. They allow you use to caching plugins and other tools to speed your website up which GoDaddy does not allow. They include SSL for free, a domain branded e-mail and a free domain when you signup.
This brings our cart and grand total to $94.80 USD ($126 CAD) for two years
Yes, you heard that right. On a higher quality server, with all the same features that GoDaddy offered. So how much do you save by choosing a provider like Dreamhost over GoDaddy?
$461.76 saved over two years
With such large savings by choosing a web hosting provider such as Dreamhost, it makes little sense why anyone would choose GoDaddy. It all comes down to marketing and tricking new entrepreneurs into overpaying with clever wording.
The customer service with Dreamhost is also phenomenal as they are a small team of web developers who actually understand technical questions. If you have ever had to deal with GoDaddy customer service, you know their workflow and corporate agenda takes priority over solving any of your issues. If you have ever tried to email GoDaddy customer service, you will also know the pain it causes; it is near pointless trying to troubleshoot with GoDaddys team via email.
Conclusion
GoDaddy is more expensive than we had originally anticipated when planning this article. We knew that GoDaddy was more expensive, but we had no idea it was almost 4x the price of Dreamhost . This goes to show that marketing is a supremely dominant factor in the web hosting game since Dreamhost offers exactly what they do and more.
We hope that whatever web hosting path you decide to take, you don't choose GoDaddy. Save your money and support a smaller company like Dreamhost, you won't regret it.